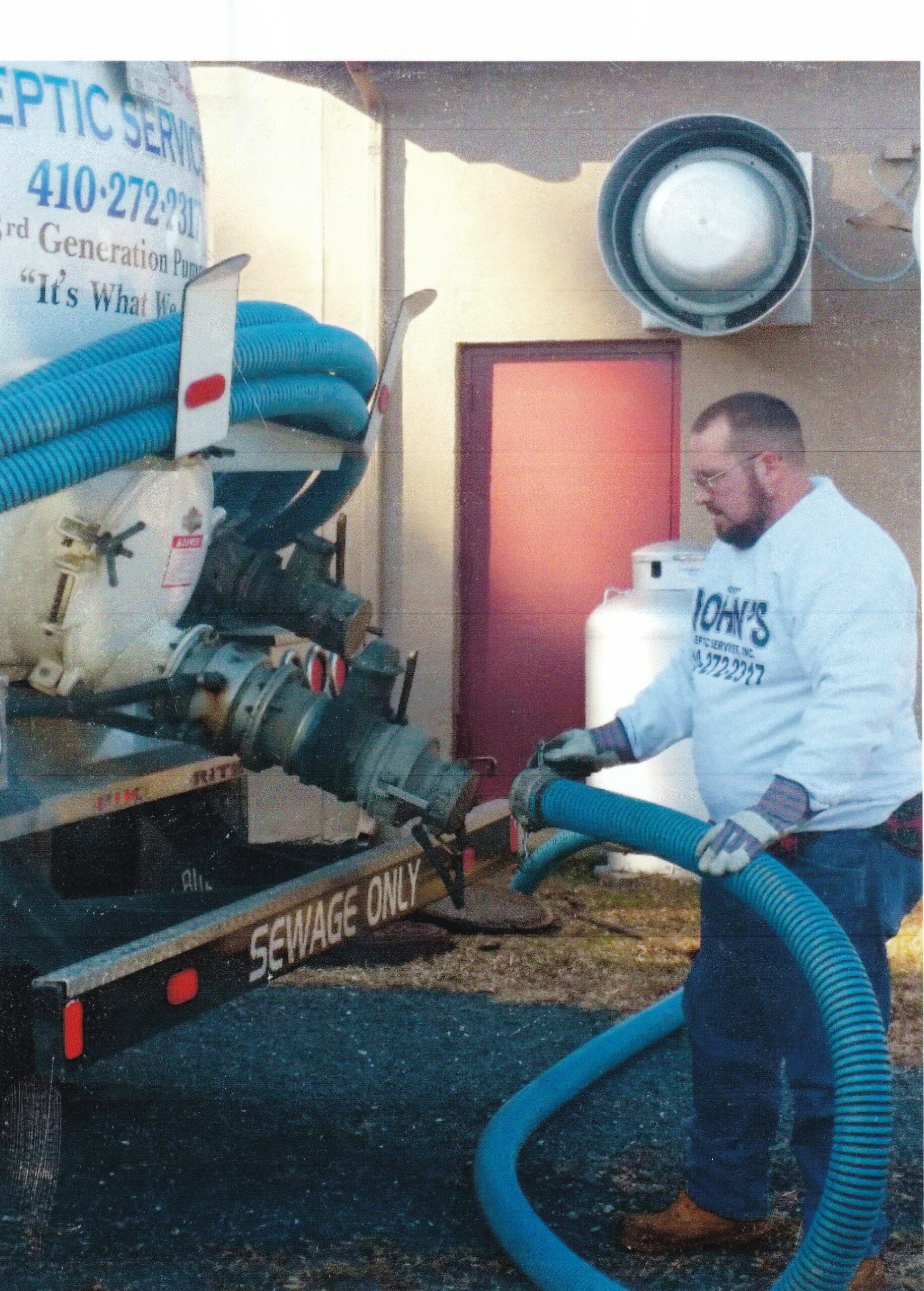 John's Septic Service has been performing septic tank pumping since 1969. We know our stuff. We utilize modern, sanitary equipment and
we take every precaution to protect your property.
 Each large capacity pump truck is equipped with 200 feet of hose, allowing us to park away from the drainfield and away from your home during the septic tank pumping process.
Septic Pumping
When we arrive to perform septic pumping, our trained technicians, or Ministers of Muck, will unwind the flexible hose from the pump truck, and connect sections to reach up to 200 feet if needed. One end is connected to the vacuum truck and the other end is placed in the septic tank. When the septic tank is empty, we turn the truck pump to reverse, (or backflushing) to loosen anything left stuck in the tank. Again, the tank is pumped empty. At that point, you will be asked to flush your toilet and the technician will check for good steady flow from the house to the tank. Then we haul the contents of the tank, now safely in our pump truck, to the disposal plant. John's Septic Service recommends a 2 year septic tank pumping schedule to help maintain your septic system avoid system failure. Signs of septic system failure can include:
Septic odors either indoors or outdoors close to the system
Toilets fail to flush or back up – a worst case scenario is raw sewage backs up into your basement)
Gurgling signs in pipes and drains
Standing water or bright green, spongy grass in the area of the drainfield, even in dry weather
At each septic pumping appointment, we will perform a visual inspection to check for any issues, and make recommendations for repairs, if needed. Not sure where your septic system is located?
Use this file
for some tips, and to fill out the diagram.